REB DFW Pass
REB DFW Pass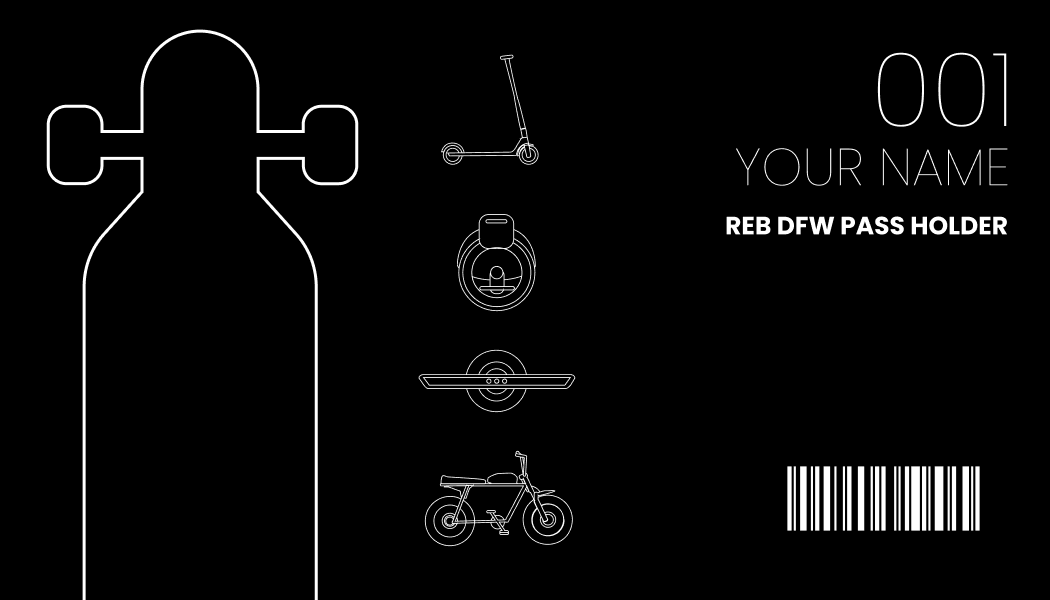 Introducing the REB DFW Pass, your monthly subscription to exclusive savings and perks at Rent EBoards DFW. With the REB DFW Pass, you'll get 10% off accessories, 25% off services, and 50% off rentals, making it the perfect way to save on everything you need for your personal electric vehicle. Plus, as a REB DFW Pass member, you'll receive a custom personalized membership card and be the first to know about new products and special promotions, so you can always get the best deal on the latest gear. Sign up today and start enjoying the benefits of being a REB DFW Pass member!
Benefits include but are not limited to:
10% off accessories purchases in store or online

25% off services in store

50% off rentals booked in store or online

Priority notification for pre-order opportunities
FREE PEV diagnostics services
Exclusive monthly discounts & sales for members only

Discount matching at other REB locations
Pricing Options:

$39.99/mo - Free T-Shirt Signup Bonus
$399.99/year [Save $80] - Free T-Shirt & custom REB JBL Speaker Signup Bonus
Terms and Conditions:
The REB DFW Pass is valid for one calendar month from the date of purchase and automatically renews at the end of each month unless cancelled by the member.
The REB DFW Pass discounts cannot be combined with other offers or promotions.
The REB DFW Pass membership card is non-transferable and must be presented at the time of purchase to receive the applicable discounts.
Rent EBoards DFW reserves the right to modify or cancel the REB DFW Pass program at any time without notice.
All other Rent EBoards DFW policies, including returns and exchanges, apply to REB DFW Pass purchases.
By purchasing the REB DFW Pass, you agree to these terms and conditions.