Surron Light Bee X -2022 Version (38Ah battery)
Surron Light Bee X -2022 Version (38Ah battery)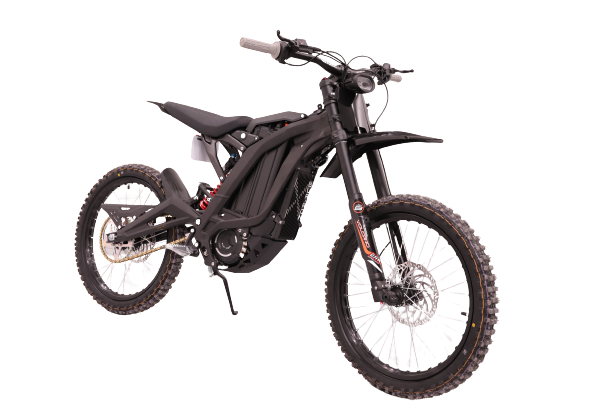 *A $150 Pre-Delivery Inspection & Assembly Fee may be charged upon pickup*
The electric, off-road Light Bee X promises advanced fun on all terrain.
The Light Bee X offers 60V of power from a removable Panasonic lithium ion battery pack. A forged, lightweight aluminum frame, combined with high-spec components, results in a total weight of just 50 kg. 4-piston hydraulic disc brakes are mounted front and rear.
The LCD dash is handlebar-mounted, and a  convenient USB charger sits right in front of the rider. With a climbing ability of over 45 degrees, up to 100 km of range and a short 2.5-3.5-hour charge time, the Light Bee X offers hours of near-silent fun.
*Unless otherwise noted, ALL products sold from Sur Ron™ and authorized dealers are sold with the sole intention for off road or race track use only. This product or products may not comply with some State, Federal, Provincial and/or Local laws, ordinances, regulations. The buyer takes full responsibility of the use of these products on their vehicle which may or may not conform to all applicable laws and regulations for on road or highway use.
Ultra Lightweight Frame
The Light Bee's 7.8 kg frame is constructed of aviation-grade aluminum alloy via a fully automatic welding process that ensures consistency in production.
High Performance Brakes
The braking system features opposed, four-piston hydraulic calipers with metallic brake pads and 203 mm discs for safe and reliable stopping power.
Sporty Performance
In SPORTS mode, the Light Bee X puts out 6 kW of power and 250 Nm of torque. That's more than enough for tackling jumps and climbing hills!


Specs:
Motor
Motor Type: PMSM

Weight / Motor External Diameter: 7.0kg / 180mm
Motor Axial Length: 130mm
Peak Efficiency: 95.6%
Cooling Method: Air-Cooled
Controller
Controller Type: X Version Sine Wave
Dimensions: 240mm x 110mm x 50mm
Peak Efficiency: 98.5%
Power Modes: Eco and Sport
Motor Power System
Rated Voltage: 60V (DC)
Rated Power / Peak Power: 3,000W / 6,000W
Motor Shaft Output Torque @ 1000RPM: 35.40Nm
Rated Rotation Speed: 4300RPM
Peak Efficiency: 97.8%
Range of Efficiency (≥80): 1.4Nm - 21.5Nm
Certificates
Road Legal: No (Street legal kit available for purchase)
Transmission
Gear Ratio: 1:7.6
Transmission: Primary Belt & 420 Drive Chain

Electrical Components
Battery: 60V 38Ah Lithium Battery with Samsung 18650 35e Cells

Battery Life: 500 Cycles (reduces thereafter)
Battery Change Indicator: Integrated LCD Display
Charger: 10A
Charge Time: 2.5 - 3.5 Hours
USB Connection: Single USB-2.1 A Port
Speedometer: LCD Digital Speedometer
Headlight & Rear Light: LED
Vehicle
Chassis & Swingarm: Forged Aluminum
Chassis Surface & Color Processing: Anodic Oxidation
Front Suspension: KKE or DNM, Adjustable for Preload & Rebound
Rear Shock Absorber: KKE or DNM Shock with TR Suspension Link System, Adjustable for Compression & Rebound
Wheel Type & Size: 19 x 1.4 Wire-Spoke Wheels Front/Rear, Alloy Hubs
Tire Size: 70/100-19 Front/Rear
Max Range: 100km @ 32km/h depending upon terrain
Net Weight: 47kg (Plus Battery)
Max Load: 100kg (220 lbs)
Max Climbing Angle: 45 degrees
Rear Sprocket: 48T
Side Stand: With Kill Switch
Vehicle Dimensions: 1,870mm x 780mm x 1,040mm
Minimum Ground Clearance: 270mm
Wheelbase: 1,260mm
Seat Height: 84-88cm
Surron Light Bee X -2022 Version (38Ah battery)